Dave Woolley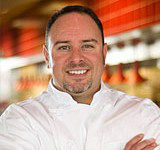 From birth, Dave Woolley was destined to become a chef. Growing up, he wanted to follow in his father's footsteps & become a chef & restaurateur. At 10, he got his first taste while folding pizza boxes at his father's Italian restaurant. After high school & 2 years in the U.S. Air Force, he graduated with honors from Walt Disney World's 3-year culinary apprenticeship program in Orlando. His extensive training included working as a line chef & apprentice at more than a dozen of Disney's 4 & 5-star restaurants. He also assisted Team USA culinary Olympic members during their pre-trails. Chef Woolley went on to become the opening Sous chef at La Venezia Café in Orlando. In 1995, he became a chef at Eldorado Hotel, Santa Fe's original 4-star establishment, then onto a Sous Chef position at The Club restaurant at Santa Fe's Hotel St. Francis where he was promoted to Executive Chef.
In 1998, at age 29, Chef Woolley, his wife, Edy & his parents, moved to Salida, Colorado to open a restaurant together & he became the Co-owner & Executive Chef of Antero Grill. Chef Woolley's creativity & innovative ideas came to life on the Antero Grill's menu, featuring "modern American cowboy cuisine", to include Latin, Southwestern & Native American influences. In 2002, Chef David Woolley joined The Fort restaurant in Morrison, Colorado as the new Executive Chef & protégé of owner & food historian Sam Arnold. Woolley & Arnold traveled to Mexico, with chef extraordinaire Rick Bayless, where they combed local markets, dined in traditional restaurants & mingled with the natives to capture the essence of early Mexico's diverse cuisine.
Woolley has become a food authority in the Denver chef scene, having appeared regularly as a guest chef on KUSA's 9 News. His national appearances include "FoodNation" with Bobby Flay, "Unwrapped" on the Food Network and "Taste of America" on the Travel Channel. Most recently, Woolley was the recipient of a MenuMasters Award for "Best Limited Time Offer" for 2009 at the National Restaurant Show in Chicago, 2010.
Chef David Woolley was the Corporate Executive Chef for Red Robin Gourmet Burgers where he crafted new product development for the 450+ unit, one billion dollar restaurant chain. Chef Dave is now President and Chef of FUN things to Cook for CD Culinary Approach based out of Lakewood, Colorado.  Chef Dave has shared these 3 special recipes for our readers.
© Souders Studios 2023