Mike Thom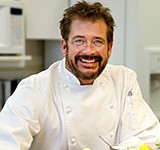 In the culinary industry for 33 years, Mike Thom has worked as executive chef in various venues…full service hotel, country club/resort, scratch Italian and high volume restaurants. Originally from upstate New York, Mike worked in Syracuse and Skaneateles (Finger Lakes Resort & Country Club) and moved to Colorado in 1987. While in Colorado, Mike continued with high volume and scratch cooking on Boulder's Pearl Street working at Pearl's and Morgan's Café before taking the corporate chef position with Rock Bottom Restaurants, Inc. Mike has always enjoyed the culinary scene and is described by some who know him as a definite foodie.
Today Mike holds the distinct title of Culinary R&D Director and Executive Corporate Chef for Old Chicago Restaurants, Inc., (a division of CraftWorks Restaurants & Breweries.) Chef Mike has been in this position from 1991-present. Mike is directly responsible for menu item development, culinary direction, kitchen layout, food styling for photo & video productions, equipment specification and all food creations for the Old Chicago Restaurant concept. Mike was additionally responsible for Rock Bottom's other two concept's culinary development (Rock Bottom Brewery and the ChopHouse) from 1998-2002.
Some of the other venues that Mike has previously worked include: Bragg's Café and Tonino's Trattoria in Syracuse, The Old Stone Mill, Skaneateles Country Club in Skaneateles and the Genesee Inn Garden Court Restaurant, also in Syracuse.
Chef Mike's favorite activities outside of cooking are fly-fishing, motorcycling, photography and billiards.
© Souders Studios 2023