Cranberry Pom Cloud Salad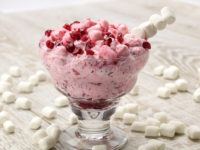 1 (10 oz.) bag fresh whole cranberries (about 3 cups)
¾ cup sugar
2 cups miniature marshmallows
1 (20 oz.) can crushed pineapple, drained
1 cup heavy whipping cream
½ cup powdered sugar
1 tsp vanilla extract
1 cup pomegranate seeds
Pulse the cranberries in a food processor until fine and no large pieces remain. Transfer to a large mixing bowl and stir in the sugar. Cover and refrigerate for at least 2 hours or up to overnight. Drain any accumulated juices from the cranberries if needed and reserve for another use, and then mix in the marshmallows and drained pineapple. Set aside. Whip the heavy cream in a large mixing bowl (using a stand mixer with the whisk attachment or handheld mixer) until it begins to thicken, about 1 minute, and then beat in the powdered sugar and vanilla until soft peaks form about 3 to 5 minutes. Gently fold the whipped cream into the cranberry mixture, one third at a time, until fully incorporated. Transfer to an 8-by-8-inch dish or serving bowl.
Refrigerate or freeze for about 2 hours. Right before serving, top with the pomegranate seeds.
This can be made ahead and stored in the fridge for 1-2 days.
Serving: 8-10 servings
Recipe by: Love To Be In The Kitchen
© Souders Studios 2023