The National Onion Association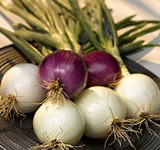 Do you know your onions? Better yet, do you know there is a national organization for the humble, yet essential onion? It's true! The National Onion Association (NOA), founded in 1913, is comprised of over 500 members from the United States and abroad. This multi-faceted organization represents the growers, shippers, brokers and commercial representatives of the U.S. onion industry. Their goals are to disseminate industry-related information and to help increase the visibility and consumption of onions. They track federal legislative and regulatory issues, monitor international trade and conduct industry-wide educational conventions.
Consumer outreach through different educational and publicity efforts is a primary function of the association as well. Naturally, recipe development and photography are two of the best ways to encourage consumption and teach others about this amazing veggie. Today, Souders Cookery Blog is excited to share three of NOA's simple and tasty recipes with you.
Photography compliments of Souders Studios.
© Souders Studios 2022