Graham Cracker Toffee Bars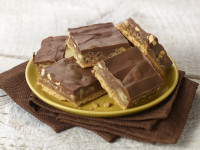 1 package Honey Graham Crackers
2 (1lb) Almond Hershey's Bars, broken into pieces
1 cup butter (2 sticks)
1 cup brown sugar
1 cup chopped pecans
Preheat oven to 350 degrees F.
Lightly grease a 9×13" baking dish and place graham cracker sheets evenly in a single layer along the bottom of the pan.
Add butter to a large saucepan over medium heat.
Cook until melted.
Add brown sugar and pecans and bring mixture to a boil.
Boil for 5 minutes, stirring constantly.
Pour mixture over graham crackers and spread into an even layer.
Bake for 7-8 minutes or until the edges are bubbling.
While the bars are baking, unwrap the chocolate bars and break them into pieces.
Remove bars from oven and lay chocolate pieces into a single layer across the top.
Cover with a lid or aluminum foil to allow the chocolate to melt.
After 10 minutes, remove the lid and use a spatula to spread the melted chocolate evenly over the bars.
Allow to cool completely, and then refrigerate for about 30 minutes before cutting into bars.
Recipe From: Tastes Better from Scratch
© Souders Studios 2023