Greek Salad in a Jar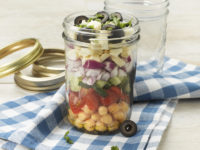 Salad Ingredients:
2 Tbsp lemon vinaigrette
½ cup chickpeas, rinsed and drained
½ cup halved cherry tomatoes
¼ cup quartered cucumber slices
2 Tbsp diced red onion
2 Tbsp pitted black olives, halved
2 oz. crumbled feta cheese
2 Tbsp chopped fresh parsley
Lemon Vinaigrette Ingredients:
2 Tbsp lemon juice
Pinch of salt
Freshly ground black pepper, to taste
3 Tbsp olive oil
Directions:
To make the lemon vinaigrette, whisk together the lemon juice, salt and pepper.
Slowly add the olive oil, whisking until the dressing thickens.
To compose the salad, place the vinaigrette in a 1-pint Mason jar and add the chickpeas.
Net add layers of cherry tomatoes, cucumber, onion, olives, feta cheese and parsley.
Seal and refrigerate until you're ready to eat the salad.
© Souders Studios 2023