Green Bean & Toasted Almond Salad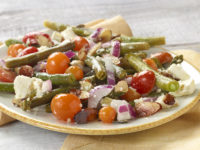 Kosher Salt
1 lb. green beans, ends trimmed
1 cup feta cheese, crumbled
1 cup grape tomatoes and golden cherry tomatoes
2 tbsps. red onion, chopped
½ cup slivered almonds
3 tbsps. olive oil
2 tbsps. red wine vinegar
2 tbsps. fresh spicy basil, chopped
1 large clove, minced,
Black pepper, freshly ground to taste
Boil a pot of slightly salted water.
Add the greens and cook for three minutes until tender crisp.
Remove beans from boiling water and blanch in ice water.
Pat dry and put in a bowl.
Combine the feta, tomatoes, onion and add to beans.
Toast almonds in a small skillet for 2 – 3 minutes.
Whisk together the olive oil, red wine vinegar, basil, garlic and pepper.
Pour the dressing over the green beans.
Sprinkle with toasted almonds.
Let marinate one hour in refrigerator before serving.
Serves 2 – 3 people
Recipe by Rick Souders
© Souders Studios 2023