Grilled Watermelon Feta Salad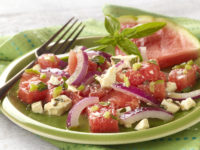 1 small red onion, sliced
1½ cups watermelon, cubed after grilling
3 tbsps. extra virgin olive oil
2 tbsps. Sherry cooking wine
2 tbsps. fresh mint, chopped
2 oz. feta cheese, crumbled
½ tsp chili pepper, finely diced
Place onion in a bowl and cover with 1 tablespoon vinegar and water.
Let stand 5 minutes, drain and dry.
Grill larger cuts of watermelon with rind on for about 3 minutes per side on a medium hot grill until charred.
Add onions and remaining ingredients and toss together.
Let sit for an hour before serving.
Serves 2 people
Recipe adapted by blog chefs from New York Times
© Souders Studios 2023