Lemon-Zucchini Cornmeal Cookies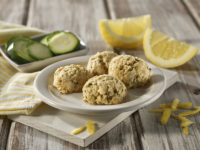 ½ cup (1 stick) unsalted butter, room temperature
1 cup confectioners' sugar
½ tsp vanilla extract
1 tsp packed lemon zest, finely grated
1 tsp coarse salt
1 cup all-purpose flour
½ cup fine cornmeal
1 medium zucchini, grated (about 1 cup)

Preheat oven to 325 degrees. In large bowl, mix butter and sugar with a wooden spoon until pale and fluffy. Stir in vanilla, lemon zest, and salt. Add flour and cornmeal and mix until mixture is crumbly. Add zucchini and stir until thick dough forms. 

Drop dough by rounded tablespoons, 2 inches apart onto 2 parchment-lined baking sheets. Bake until cookies are light golden brown at edges, 25 to 30 minutes, rotating sheets halfway through. Let cool completely on wire racks.

Makes: 25 cookies
Recipe:  marthastewart.com.
 
© Souders Studios 2023