Mediterranean Tortellini Salad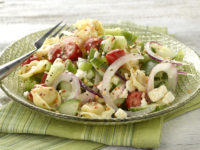 Ingredients
For pasta:
1 lb Tortellini
1 red onion thinly sliced
1pint cherry tomatoes, halved
1 cucumber seeded and diced
1 green bell pepper diced
4oz feta cheese crumbled
For the Dressing:
1/3 cup red wine vinegar
2 tsp fresh lemon juice
1 tsp sugar
2 tsp dried oregano
½ tsp red pepper flakes
½ cup extra virgin olive oil
salt and black pepper to taste
Bring a pot of salted water to a boil and cook the tortellini according to the package instructions.
Meanwhile place the onions in a bowl of cold water to get rid of some of the bite.
Drain after 5 Min
When the tortellini is done cooking toss together the onion slices, cherry tomatoes, cucumber, bell pepper, feta cheese, and tortellini.
In a separate bowl, whisk together the red wine vinegar, lemon juice, sugar, oregano, and pepper flakes.
Slowly pour in the olive oil and whisk to combine.
Season to taste with salt and black pepper.
Pour the dressing over the tortellini salad and toss to combine.
Serve warm or at room temp.
Recipe From: Joanne Eats Well with Others
© Souders Studios 2023