Nut Lovers Oatmeal Cookies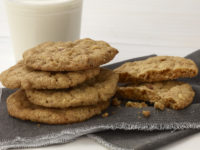 1¾ cups light brown sugar
1 cup butter, melted
2 eggs
1 tablespoon vanilla
2 cups all-purpose flour
1¼ cups old fashioned rolled oats
½ teaspoon baking soda
½ teaspoon kosher salt
1 ½ cups chopped nuts, I used pecans and walnuts
Preheat the oven to 325 degrees.  Place the sugar in a large mixing bowl. Add the hot melted butter and beat until smooth. Let cool for a few minutes before adding the eggs and vanilla and beating once more.
Whisk together the dry ingredients and slowly add them to the wet ingredients. Stir to combine. Add the nuts and stir well to make sure they are evenly distributed.
Scoop the dough into 1½-inch sized balls and place on a parchment-lined baking sheet. Bake for 14-16 minutes. Remove from the oven. Let cool for 1-2 minutes on the baking sheet and then transfer to a wire cooling rack.
Serving: 18-20 3-inch cookies
Recipe by Shelly Ruybalid
© Souders Studios 2023