Rick's Healthy Sloppy Joes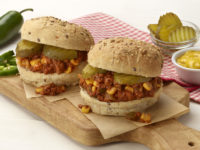 This is an old favorite of many regions of the country. We have made Rick's family sloppy joe recipe in to a much healthier and tasty recipe.
1 tsp grapeseed oil
1 cup sweet onion, finely diced
1 cup green bell pepper, finely diced
2 jalapenos, finely diced
2 garlic cloves, minced
1½ pounds 93% lean ground beef
1 (6 oz.) can no salt tomato paste
2 tbsp. low-salt low-sugar catsup
2 tsp chili powder
1 tsp cumin
½ tsp sea salt
½ tsp black pepper
½ cup fat free reduced salt chicken broth
½ (15 oz.) can no-salt sweet corn, drained
6 small multigrain hamburger buns
yellow mustard
dill pickles, sliced
Heat oil in non-stick skillet over medium-high heat. Add onion, bell pepper, jalapenos and garlic. Sauté 3-5 minutes. Add beef to skillet and cook until browned. Stir in tomato paste and catsup. Add chili powder, cumin, sea salt, pepper and broth. Reduce heat and simmer for 10 minutes, stirring occasionally while thickening. Add sweet corn and cook for 3 more minutes.  Spoon about 1 cup of mixture over bottom half of bun. Add sliced dill pickles. Add mustard for additional flavor. You can pre toast the buns before serving. Serve hot.
Serves: 6 Sandwiches
Recipe by: Rick Souders
300 Calories (Healthy Options)
© Souders Studios 2023