Southwest Salad in a Jar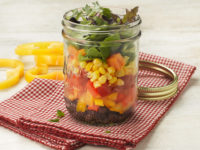 Southwestern Salad
Ingredients:
3 Tbsp lime vinaigrette½ cup black beans, rinsed and drained
½ red vine-ripened tomato, diced
¼ red bell pepper, diced
¼ yellow bell pepper, diced
1 tsp diced jalapeno
½ cup corn kernels, preferably fresh
2 cups mixed salad greens
1 oz. cheddar cheese, grated
1 quart sized Mason jar
Lime Vinaigrette Ingredients:
2 Tbsp lime juice
1 Tbsp chopped fresh cilantro
Pinch of salt
Freshly ground black pepper, to taste
Dash of hot sauce (optional)
3 Tbsp olive oil
To make the lime vinaigrette, whisk together the lime juice, cilantro, salt, pepper and hot sauce, if using.
Drizzle in the olive oil, whisking all the while, until the dressing thickens.
To build the salad, pour the dressing into the Mason jar.}
Layer in the black beans, tomato, bell peppers, avocado and corn.
Finish with the salad greens and then the Cheddar cheese.
Seal and refrigerate until ready to use.
© Souders Studios 2023