Spring Blossom Sugar Cookies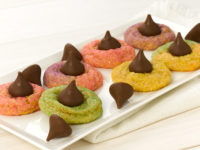 Ingredients:
1 stick (½ cup) butter, softened
1 cup granulated sugar
1 egg
1 ½ teaspoons vanilla extract
2 cups all-purpose flour
¼ teaspoon baking soda
¼ teaspoon salt
2 tablespoons milk
Pink, yellow, orange & purple sugar crystals
Directions:
Preheat oven to 350 degrees F. Remove wrappers from candies; set them aside.
Cream together the butter and sugar in a stand mixer, until light and fluffy. Add egg and vanilla, making sure both are completely incorporated.
In a small bowl add flour, baking soda and salt, whisking together to combine.
With your stand mixer on slow, add the flour mixture and milk. Alternating each and ending with the flour mixture. Ladle sides and bottom of bowl to make sure everything is blended together.
Shape dough into 1-inch balls. Roll dough in colored sugar crystals and place on baking sheet.
Bake 8-10 minutes, or until cookies are set. Remove from the oven and let them sit for 2 minutes on baking the baking sheet.
Press a Hersey kiss into the center of each cookie. Remove cookies from baking sheet to a wire rack and let cool completely.
Recipe by: mykitchencraze.com
© Souders Studios 2023