Triple Chocolate Zucchini Cookies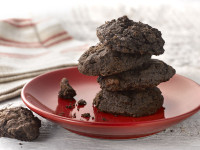 ⅔ cup semisweet or dark chocolate chips
2 cups all-purpose flour
¼ cup unsweetened cocoa powder
1 tsp baking soda
½ tsp salt
½ cup butter, softened to room temperature
¼ cup granulated sugar
½ cup packed light brown sugar
1 egg
1 tsp vanilla extract
1 cup shredded, drained zucchini
1 cup semisweet, dark or milk chocolate chips
Preheat the oven to 325° F.
Line baking pans with parchment paper, oven-proof liner or lightly grease with nonstick cooking spray.
Melt the ⅔ cup chocolate chips in a small bowl in the microwave (stir at 1-minute intervals taking care not to overheat) or in a double boiler on the stove until just melted.
Set aside to cool to room temperature
In a medium bowl, whisk together the flour, cocoa powder, baking soda and salt.
In a large bowl or with an electric stand mixer fitted with the paddle attachment, whip together the butter, granulated and brown sugars, for 1-2 minutes until light and creamy.
Add the egg and vanilla and mix another minute.
Stir in the zucchini.
Pour in the melted chocolate and mix until well-combined.
Add the dry ingredients and mix on low speed until a few streaks of flour remain.
Stir in the chocolate chips until everything is just incorporated.
Scoop the cookie dough into tablespoon sized balls and place about 2-inches apart on the prepared cookie sheets.
Bake for 10-11 minutes until just set.
© Souders Studios 2023